Maake-Ena Afitu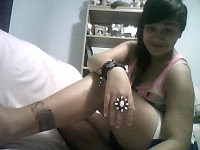 About Maake-Ena:
My life can sometimes be hard i gotta admit. I have those people who try's to bring my life down, have those who make my life happy&easy but i have th ...read more
Maake-Ena's Info
Name:
Maake-Ena Afitu
Gender:
Female
Location
City/Town:
State/Province:
Country:
Something About Maake-Ena
My life can sometimes be hard i gotta admit. I have those people who try's to bring my life down, have those who make my life happy&easy but i have this one person who makes my love/feeling so complicted. Growing up in a family who attends to a seventh day adventist church, i'm proud to be an adventist. Tho it may be hard to live a christian life, trying to act all innocent in front of everyone. I admit i'm not so christian lady like. I'm more of th break th rules, acting bad and acting like im tuff infront of everyone. But i will always remember who and what my religion is and will never deny my beliefs.

Life can be a struggle for me, but i shall never give up on life, for my life is to precious to waste. Live life to th fullest cause you will never know when th time comes for you to leave this earth.
Maake-Ena's Mission Statement
Maake-Ena's Interests
Occupation
Activities
Love hanging with my MAIN friends and my family ; Love reading books, listening to music and browsing the net :)
Music
♫ music and rhythm find their way into the secret places of the soul ♫

- Slow jams
- Old school music
- Korean music LOL
- Rock (only a lil)
- Reggae
- RnB

TV Shows
Watching normal TV
* NCIS *Crimal minds *SVU *Cold case *Glee
* Desprate house wife *Grey's anatomy

Watching FOXTEL
*16&pregant *Sweet 16 *Jersey Shore *American Next top model *True Jackson VIP
*If you really knew me

and many more :)
Favorite Movies
Have too many Favorities <3
Favorite Books
Vampire academy ; many more
Random Photos From Bucket List