Trina B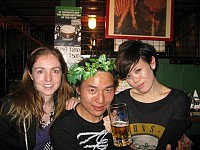 About Trina:
Hi, I'm from Florida but I live in Japan. I'm a tattoo apprentice, an equality activist, and a travel addict. My favorite colour is clear.
Mission Statement:
If life has a purpose, I think that purpose is to live. Not just to breathe, but to experience and understand one's self and the relationship between ...read more
People That Are Friends With Trina
Trina B has not added any friends yet.