Michelle Hudson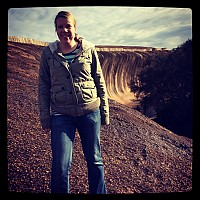 About Michelle:
I love hanging out and going to the beach and surfing even though I'm pretty bad at it. I have had a bucket list since 2005. I'm slowly crossing thing ...read more
Mission Statement:
One day your life will flash before your eyes. Make sure it's worth watching.
Bucket List Item Information
Leave a love note on a windscreen
"Watch their face change as they discover it's not a ticket."

Completed on 03/03/2014
"Left the note on a P platers car on my way back to my house. I hoped they liked it wasn't there in the morning when I looked."

Add This To Your Bucket List
Who Witnessed This Event/Item
Who Else Has This On Their Bucket List
Similiar Bucket List Ideas
Love others than to myself - 11/04/10 (Jorge Laurence Eleazar)
Find love in a hopeless place - 03/30/12 (Noor Hafizah)
Watch Titanic with someone I love - 03/30/12 (Noor Hafizah)
✔Take a walk on the beach with my love - 08/02/14 (Esther Joy)
✔See Le Mur Des je' t'aime-Love wall in Paris - 09/16/17 (Corinne ~)
make inspiration quote origami notes to leave in random places - (3) people
Bake Cookies and leave them on someone's doorstep - (3) people
find a career i love - (2) people
✔Cuddle by a fire with my love - 08/01/14 (Esther Joy)