Shiloh Williams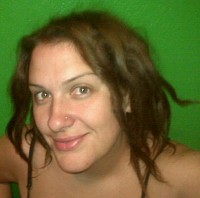 About Shiloh:
funny unabashedly silly clumsy scorpio muttyluv baby got back vegan shenanigans love my boys tree hugger laugh till i cry fail as a cook but never sto ...read more
Mission Statement:
To be happy, live by the Golden Rule and make a difference in this world.
Bucket List Item Information
Dread my hair again
"I had them before and loved them, but the jerk I was dating at the time didn't, so spineless as I was, I took them out. Never again! :)"

Completed on 09/06/2010
"New baby dreadies, just finished last night! They need a lot of TLC to tame them a bit and tighten them up, right now they're pretty wild :)"

Add This To Your Bucket List
Who Witnessed This Event/Item
Who Else Has This On Their Bucket List
Similiar Bucket List Ideas
Get a streak of red in my hair - 09/18/11 (Megan Nicole)
Donate 10 feet of hair to Locks of Love - 04/02/11 (Candice Olszewski)
Dye my hair a crazy color without warning anybody - 10/30/12 (Ashley Holden)
✔Color my hair a bizarre Color - 09/03/12 (Caroline Olmstead)
Have a lot of my hair cut off - 10/19/12 (Katie Ellison)
Get my hair back to its natural color - 01/01/12 (Savannah Elliott)
✔Get my Hair cut into a Bob - 11/08/12 (Keighley Lodge)
Donate my Hair - (10) people
Dye all of my hair dark blue - 04/15/15 (Emme Schowalter)
✔Dye my hair an unusual colour - 04/02/13 (Victoria Clarke)