Renz Ong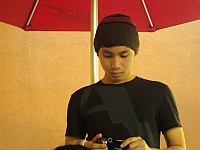 About Renz:
Writing a bucket list is fun, but the point is, it is dramatic coz it's up to you if you'll achieve and live with it or leave it.
Mission Statement:
Find the joy in your life. Live like you were dying. Say what you need to say.
Bucket List Item Information
Go visit New York City
"Times Square, Empire State, Madison Square Garden? oh yeah the big apple!"

Add This To Your Bucket List
Who Witnessed This Event/Item
Who Else Has This On Their Bucket List
Similiar Bucket List Ideas
Visit Thailand - (32) people
Visit Anuradhapura - 03/02/14 (Steve Morris)
Visit a Bodhi Tree - 02/28/14 (Steve Morris)
Visit Time Square - (5) people
Visit Athens - 06/14/10 (Shailesh Bucketlist)
Visit grocery stores in 8 countries - 07/08/14 (Marsha Roberts)
New York City - 07/08/14 (Marsha Roberts)
Visit Sydneys Wildlife World - 09/04/10 (Irene Irene)
Go to a New York nightclub - 01/29/12 (Ashley D.)
Visit the Two Towers on Lindisfarne - 04/18/14 (Steve Morris)