Kham Inthammavong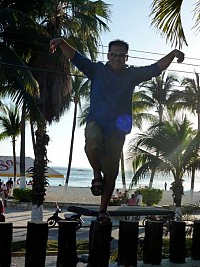 About Kham:
New look on life, more fun and less work.
Mission Statement:
Some way some how I want to be a part of making a positive difference in everyone's life.
Bucket List Item Information
Go on top of the Sears Tower
"Been meaning to do this for the longest time."

Completed on 06/01/2010
"It was awesome."

Add This To Your Bucket List
Story And Details
FYI to all, the name has been changed to Willis Tower.
Who Witnessed This Event/Item
Who Else Has This On Their Bucket List
Similiar Bucket List Ideas
Climb Devil's Tower - 06/12/11 (Maggie S)
Visit all English Heritage sites: Tower of London - 04/20/14 (Steve Morris)
Tower of Hercules, Spain - 08/25/14 (Lance Garbutt)
See the Eiffel Tower again, and climb it this time - 11/15/10 (Lindsay M.)
Chatuchak Clock Tower, Bangkok - 08/24/14 (Lance Garbutt)
Morocco - Hassan Tower - 03/29/14 (Lance Garbutt)
Clock Tower - 04/03/13 (Lance Garbutt)
Tokyo Tower - Japan - 05/15/13 (Lance Garbutt)
Walk on the Sky Deck on Sears Tower - (2) people
Drink wine infront of the eiffle tower - 09/11/11 (zander schmidt)