Renz Ong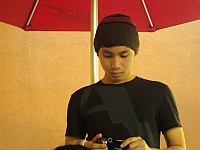 About Renz:
Writing a bucket list is fun, but the point is, it is dramatic coz it's up to you if you'll achieve and live with it or leave it.
Mission Statement:
Find the joy in your life. Live like you were dying. Say what you need to say.
Bucket List Item Information
learn jeet kune do
"i will"

Add This To Your Bucket List
Who Witnessed This Event/Item
Who Else Has This On Their Bucket List
Similiar Bucket List Ideas
Learn how to - read auras - 07/09/14 (Marsha Roberts)
Learn how to sew my own clothes - 08/29/14 (Annie H,)
Learn more Korean - 12/17/14 (Carrie G)
Learn Bollywood Dancing - 08/31/14 (Lance Garbutt)
Learn Three Bicycle Tricks - 04/03/14 (Steve Morris)
✔Learn how to - bake a cake - 07/09/14 (Marsha Roberts)
76. learn to play chess - 10/11/10 (Mazzi wheatley)
Learn how to take amazing photos - 12/15/10 (Elissa R)
Learn how to ballroom dance - 11/16/10 (Melissa McKay)
Learn to play the bag pipes - 06/07/13 (David Asselin)