Michelle Hudson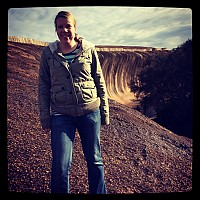 About Michelle:
I love hanging out and going to the beach and surfing even though I'm pretty bad at it. I have had a bucket list since 2005. I'm slowly crossing thing ...read more
Mission Statement:
One day your life will flash before your eyes. Make sure it's worth watching.
Bucket List Item Information
Conquer a fear
"Now to decide which fear to conquer."

Completed on 11/01/2010
"Ok so sparklers aren't so scary after all and they wont actually burn you unless you touch the glowing wire."

Add This To Your Bucket List
Who Witnessed This Event/Item
Who Else Has This On Their Bucket List
Similiar Bucket List Ideas
✔Conquer the 'Big 8' thrill rides at Dreamworld - 09/30/13 (Lance Garbutt)
have a smoke to the movie "Fear and Loathing in Las Vegas" - 07/07/10 (arim g)
Sydney Ride to Conquer Cancer - 10/27/13 (Lance Garbutt)
actually get over my fear of dogs - 07/08/13 (kaliya williams)
Confront a fear - 08/17/10 (Valeriia Levine)
Overcome my fear of something - 08/01/14 (Esther Joy)
26) OVERCOME MY FEAR OF FAILURE, ABANDONEMENT, BEING LOST, AND HEIGHTS - 01/20/12 (Marisa M)
to become a stronger swimmer to get over my fear of drowning - 08/27/10 (Melissa Reese)
Get over my fear of heights - (2) people
get over fear of ferris wheels - 02/22/11 (Kameron Mason)