Susan F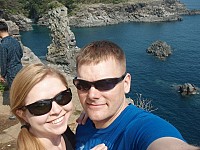 About Susan:
I love to find adventure everywhere. I don't just keep a bucket list, I am always crossing things off. I'm not very picky about my bucket list, if I h ...read more
Mission Statement:
To get as much out of life as I can, try anything at least once, go everywhere I can and don't let a moment slip by. Never say "I wish I would have".
Bucket List Item Information
Ride Thomas the Train

Completed on 06/16/2016
"Thomas the Train came to Green Bay and we were able to get tickets for it! We also rode it in 2017! So much fun!"

Add This To Your Bucket List
Viewing details are set to Friends Only
Who Witnessed This Event/Item
Who Else Has This On Their Bucket List
Similiar Bucket List Ideas
ride dirt bike - (2) people
Ride on a gondola in Venice, Italy - 01/13/11 (Amber Stanton)
Take an Amtrak train - 05/19/10 (Kristi Wilson)
Learn how to ride a skateboard - 11/15/10 (Rina Iakopo)
Ride the rocky mountaineer train - (2) people
Go on a steam train - (2) people
Ride In A Airplane - (2) people
Travel by Train Across Italy - 04/05/14 (Steve Morris)
Things to do before you're 11 3/4: Learn to Ride a Horse - 02/21/14 (Steve Morris)
Ride highway 666 - 08/10/11 (Bon Joy)