Michelle Hudson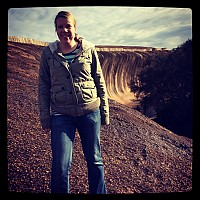 About Michelle:
I love hanging out and going to the beach and surfing even though I'm pretty bad at it. I have had a bucket list since 2005. I'm slowly crossing thing ...read more
Mission Statement:
One day your life will flash before your eyes. Make sure it's worth watching.
Bucket List Item Information
Bake Christmas Cookies
"Really cute decorated ones."

Completed on 12/25/2018
"Made the dough on Christmas eve and let it set overnight like the instruction said. The dough tasted really nice. Christmas day came I baked the cookies and decorated them. Then I tried the first one and it was like a rock; turns out i'm a terrible cook. They were absolutely horrible!"

Add This To Your Bucket List
Who Witnessed This Event/Item
Who Else Has This On Their Bucket List
Similiar Bucket List Ideas
Decorate A Christmas Tree - (2) people
VOLUNTEER AT CHRISTMAS TO A CHARITY THAT GIVES TOYS TO FAMILIES IN NEED - 12/30/10 (Melissa B)
Bake 25 Different Types of Pies: - 01/27/14 (Steve Morris)
Have a true Christmas(no presents) - 09/01/12 (Caroline Olmstead)
Finish Christmas craft with Carrie - 08/01/22 (Megan Beeching)
Bake a Chocolate Molten Cake - (2) people
Bake 25 different pies - 08/04/12 (Johnny Gonzales)
Go Christmas Caroling - (4) people
Bake 25 Different Types of Cake: - 01/27/14 (Steve Morris)
Christmas Carol, A - 05/30/14 (Lance Garbutt)