Susan F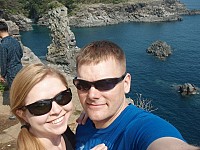 About Susan:
I love to find adventure everywhere. I don't just keep a bucket list, I am always crossing things off. I'm not very picky about my bucket list, if I h ...read more
Mission Statement:
To get as much out of life as I can, try anything at least once, go everywhere I can and don't let a moment slip by. Never say "I wish I would have".
Bucket List Item Information
Ride in a cable car up a mountain

Completed on 08/26/2016
"We went up Mount Blanc from Chamonix, France! Up over 12,000 feet!"

Add This To Your Bucket List
Viewing details are set to Friends Only
Who Witnessed This Event/Item
Who Else Has This On Their Bucket List
Similiar Bucket List Ideas
Ride Around a Aroundabout Multiple Times - 03/24/14 (Steve Morris)
✔Ride a Air Boat - 08/11/17 (Pete R)
Gondola Ride – Venetian Resort, Vegas - (2) people
113. Ride a Dune Buggy - 03/13/11 (Emma McD)
Ride on a dog sled in the snow - 07/25/10 (Breana Tinney)
have a ride in a Rolls Royce - 05/31/10 (Robin C)
ride a submarine - (2) people
Ride a Gondola in Venice, Italy - 04/03/13 (Lance Garbutt)
86) RIDE A HORSE AGAIN - 01/21/12 (Marisa M)
Learn to ride a skateboard - (4) people