Susan F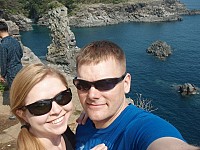 About Susan:
I love to find adventure everywhere. I don't just keep a bucket list, I am always crossing things off. I'm not very picky about my bucket list, if I h ...read more
Mission Statement:
To get as much out of life as I can, try anything at least once, go everywhere I can and don't let a moment slip by. Never say "I wish I would have".
Bucket List Item Information
A to Z eating challenge. Eat something exotic, new, exciting for every letter of the alphabet after 1-29-16
"A B - Bison C D E F - Fondu (real fondu from Swizterland) G H I J K- Kangaroo L M N O P - Python Q R S T U V W - Wild Boar X Y Z"

Add This To Your Bucket List
Viewing details are set to Friends Only
Who Witnessed This Event/Item
Who Else Has This On Their Bucket List
Similiar Bucket List Ideas
Enter a food eating challenge - 07/16/12 (Johnny Gonzales)
Ultimate Challenge Mud Run - 07/20/14 (Lance Garbutt)
✔Own an exotic pet - 07/07/14 (Marsha Roberts)
Do a 30 day photo challenge - (2) people
Malta Marathon Challenge (Malta) - 07/30/14 (Lance Garbutt)
Kiss a guy whose names corresponds to every letter of the alphabet - 08/19/12 (S Anonymous)
Stop eating cause Im bored - 07/15/10 (Jessica Call)
Write a self fufilling letter to myself - 05/07/11 (Stephanie G)
Write a letter to myself and open it when I'm 30 - 12/06/10 (Dakota-Tameryn Roberts)
Raw Challenge: Doyalson, NSW - 6K - Obstacle Course - 01/07/14 (Lance Garbutt)