Jaimee-Leigh Wignell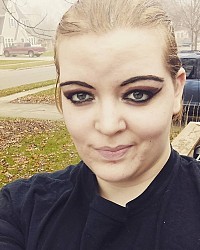 Bucket List Item Information
Shave head in support of someone else's illness
"A friend had hydrocephalus, she had an upcoming brain surgery in which her head would be partially shaved, she was afraid of being bullied for looking different, so a week before her big op I shaved my entire head right down to the shortest it would go, so that she would still have more hair than me. Rewarding experience, glad I did it. "

Completed on 11/13/2013

Add This To Your Bucket List
Photos
day three of having a shaved head, rocking a head scarf.
added on 12/27/15 07:11 pm
the day I shaved my hair to support a friend.
added on 12/27/15 07:10 pm
Who Witnessed This Event/Item
Who Else Has This On Their Bucket List
Similiar Bucket List Ideas
Have a Straight Razor Shave - 03/23/14 (Steve Morris)
Head to Head Walk Run - Crescent Head Beach, 20km, August - 01/11/14 (Lance Garbutt)
Shave my head - (13) people
Make Home Made After Shave - 09/29/16 (Lance Garbutt)
Sphinx Memorial to Bobbin Head loop track - 04/04/13 (Lance Garbutt)
Help build and finacially support a homeless shelter in another country - 03/29/12 (Terese Kessler)
Burst a condom over my head - (2) people
Get a Barber Shop Shave - (2) people
13 To shave my head - 12/13/10 (Tyler Carver)
See Big Head Todd and the Monsters in concert again - 03/23/11 (Erin Niedbalski)