Deana Littlebear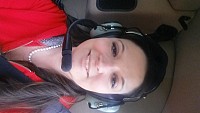 About Deana:
I started this list when I was 35 after my mother died. After losing both parents I decided I would no longer take life for granted. My family and I l ...read more
Mission Statement:
This is going to take some thought. I can't be specific about that right now. I'm just living life :)
Bucket List Item Information
Ride on a train
"We will do this again! It's best with a best friend :) "

Completed on 07/12/2019

Add This To Your Bucket List
Story And Details
We rode the train from Grand Rapids to Chicago. I was nervous at first and thought I would get motion sickness, but it was an enjoyable and smooth ride. Next time I will bring snacks with me. We will probably do this trip again.
Who Witnessed This Event/Item
Who Else Has This On Their Bucket List
Similiar Bucket List Ideas
✔Ride Ober Tramway in Gatlinburg TN - 03/10/17 (Amanda Meekhof)
Visit a Rodeo and See a Bull Ride - 03/01/14 (Steve Morris)
Ride Trams Sydney - 03/30/13 (Lance Garbutt)
Go on a hot air balloon ride - (47) people
382. Ride Death Road in Bolivia - 06/17/11 (Emma McD)
Ride a mechanical bull (to do) - 07/14/11 (Susan F)
Ride a tandem bike - (6) people
Ride on a segway - 07/18/12 (Johnny Gonzales)
Ride on the Maid of the Mist - 08/12/12 (Johnny Gonzales)
1 Time only - Ride in a hot air balloon - 08/10/11 (Carroll VerSteeg)