Deana Littlebear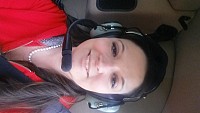 About Deana:
I started this list when I was 35 after my mother died. After losing both parents I decided I would no longer take life for granted. My family and I l ...read more
Mission Statement:
This is going to take some thought. I can't be specific about that right now. I'm just living life :)
Bucket List Item Information
Mackinac Island
"It's beautiful and I've never been there. It is one of the top 10 haunted places in Michigan. "

Completed on 06/09/2017
"The first time I went was with girls from 44 North. It was the BEST time and it is now one of my favorite places! I have been back just once but the ferry ride was terrifying, as it was extremely windy! "

Add This To Your Bucket List
Who Witnessed This Event/Item
Who Else Has This On Their Bucket List
Similiar Bucket List Ideas
Sit on the sand of Island of Lefkada, Greece- Agiofili Beach - 12/26/14 (Corinne ~)
Stay A Night at Wadigi Island , Fiji Resort - 05/16/13 (Lance Garbutt)
Cumberland Island National Seashore (St. Marys, Georgia) - 05/09/14 (Susan F)
✔Spend a Night at Plantation Island Resort "FIJI" - 08/23/16 (Lance Garbutt)
Isle of Man Ireland/England Island - 03/17/19 (Corinne ~)
Walk across the mackinac bridge - 03/21/15 (Autumn VanBuren)
Catalina Island - 09/01/15 (Pete R)
Visit the active Kilauea Volcano on the Big Island, Hawaii - 07/08/10 (Diana Giraldo)
Island at the Top of the World, The - 04/21/14 (Lance Garbutt)
✔Go star gazing at Fox Island - 07/30/13 (Megan Beeching)