Susan F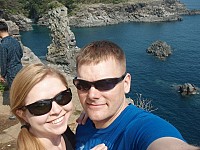 About Susan:
I love to find adventure everywhere. I don't just keep a bucket list, I am always crossing things off. I'm not very picky about my bucket list, if I h ...read more
Mission Statement:
To get as much out of life as I can, try anything at least once, go everywhere I can and don't let a moment slip by. Never say "I wish I would have".
Bucket List Item Information
Da Nang at night (Da Nang, Vietnam)
"Preferably up high so I can see the bridges lit up."

Add This To Your Bucket List
Viewing details are set to Friends Only
Who Witnessed This Event/Item
Who Else Has This On Their Bucket List
Similiar Bucket List Ideas
✔Spend a Night at a Caravan Park - 11/08/15 (Lance Garbutt)
Spend a Whole Night Gazing up at the Stars - (2) people
118) KISS SOMEONE ON THE TOP OF THE EMPIRE STATE BUILDING AT NIGHT - 06/10/12 (Marisa M)
✔Spend a Night at the Shangri – La - 08/12/14 (Lance Garbutt)
Spend a night in a medieval castle - 01/07/12 (Elizabeth Allison)
Spend A Night At The Menzies - 12/12/13 (Lance Garbutt)
Have a night picnic - 09/14/14 (Zsófi Homoki)
Spend a Night in Hotel in Northern Territory CBD - 08/15/14 (Lance Garbutt)
✔Spend a night Chateau Marlborough Hotel - 08/10/15 (Lance Garbutt)
Learn to read the night sky - (2) people