Michelle Hudson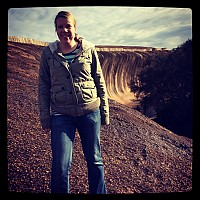 About Michelle:
I love hanging out and going to the beach and surfing even though I'm pretty bad at it. I have had a bucket list since 2005. I'm slowly crossing thing ...read more
Mission Statement:
One day your life will flash before your eyes. Make sure it's worth watching.
Bucket List Item Information
See gay marriage legal in Australia
"Everyone should have the same rights. Also I have a cousin and a really good friend who are gay and I think they should be able to get married if they want to."

Completed on 12/09/2017
"It's official. I love that the Australian people made this happen. Love is Love! Love Endures! Love Wins!"

Add This To Your Bucket List
Who Witnessed This Event/Item
Who Else Has This On Their Bucket List
Similiar Bucket List Ideas
91. ride the ghan to Darwin australia - 10/11/10 (Mazzi wheatley)
Quit the legal profession - 09/29/10 (Jannali Jones)
The Big Tree, Pemberton, Western Australia - 10/18/13 (Lance Garbutt)
Glow Run Australia - 07/20/14 (Lance Garbutt)
go to Monkey Mia in Australia - 06/29/10 (222222 555555555)
Travel around Australia - 05/28/11 (Michelle Hudson)
Visit Western Australia - 04/02/13 (Lance Garbutt)
Art Gallery Of Western Australia - 04/02/13 (Lance Garbutt)
The Big Crocodile, Wyndham, Western Australia - 10/18/13 (Lance Garbutt)
✔Australia's Highest Post Box - 10/28/14 (Lance Garbutt)