Michelle Hudson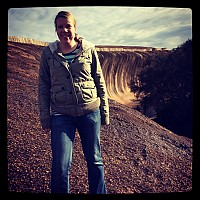 About Michelle:
I love hanging out and going to the beach and surfing even though I'm pretty bad at it. I have had a bucket list since 2005. I'm slowly crossing thing ...read more
Mission Statement:
One day your life will flash before your eyes. Make sure it's worth watching.
Bucket List Item Information
Eat a mango
"They have always been really expensive where I have lived. So I have never tried one."

Completed on 10/24/2014
"it tasted really nice but so messy to eat. it was defiantly worth the six dollars I had to pay for it"

Add This To Your Bucket List
Who Witnessed This Event/Item
Who Else Has This On Their Bucket List
Similiar Bucket List Ideas
✔Mango - 11/08/14 (Lance Garbutt)
✔Mango Sorbet - 01/18/15 (Lance Garbutt)
The Big Mango - 09/24/14 (Lance Garbutt)
✔Kama Sutra Position - Swallowing The Mango - 02/26/16 (Lance Garbutt)