Michelle Hudson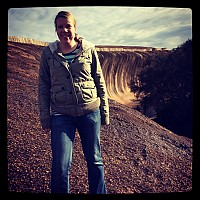 About Michelle:
I love hanging out and going to the beach and surfing even though I'm pretty bad at it. I have had a bucket list since 2005. I'm slowly crossing thing ...read more
Mission Statement:
One day your life will flash before your eyes. Make sure it's worth watching.
Bucket List Item Information
Skip a rock
"I have never been able to do it, but I will keep trying."

Completed on 06/22/2015
"Oh My God! I finally did this. I went down to the Joondalup wetlands with five little rocks that I stole out of the garden. I went through the first four pretty quick and wasn't to hopeful about the last one. But I put a lot of angle on it and it nicely did a little skip. I did a little happy dance in celebration. It's only taken me 31 years to master this skill. "

Add This To Your Bucket List
Who Witnessed This Event/Item
Who Else Has This On Their Bucket List
Similiar Bucket List Ideas
Little Rock Central High School National Historic Site (Little Rock, Arkansas) - 10/11/14 (Susan F)
Bondi Aboriginal Rock Engravings Tour - 03/28/13 (Lance Garbutt)
Have My Picture Taken With A Rock Hyrax - 07/02/14 (Lance Garbutt)
The Infinity Room at House on the Rock, Spring Green, WI - 04/07/13 (Lance Garbutt)
Rock climb at Smith rocks - 11/20/10 (Eileen Wall)
Sweetheart Rock (Lanai, Hawaii) - 02/19/16 (Susan F)
Rock climbing - (5) people
See the Aphrodite's rock in Cyprus - 12/25/13 (Lance Garbutt)
✔Visit every Brimham Rock formation: Cannon Rocks - 03/11/14 (Steve Morris)
Dallas White Rock Marathon (Texas) - 07/28/14 (Lance Garbutt)