Michelle Hudson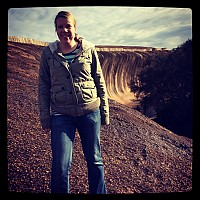 About Michelle:
I love hanging out and going to the beach and surfing even though I'm pretty bad at it. I have had a bucket list since 2005. I'm slowly crossing thing ...read more
Mission Statement:
One day your life will flash before your eyes. Make sure it's worth watching.
Bucket List Item Information
Make my own birthday cake and eat it all by myself
"I'm going to make something really cool."

Completed on 09/22/2015
"I was planning to cook something fancy but then I decided a nice orange cake with orange icing and sprinkles will do nicely. So that's what I did. It tasted really nice and was really easy and fun to make."

Add This To Your Bucket List
Who Witnessed This Event/Item
Who Else Has This On Their Bucket List
Similiar Bucket List Ideas
Make a zombie survival plan - 01/26/16 (Susan F)
Make Mrs T happy - 06/09/12 (Ceeya Bye)
make a dress out of duct tape - (2) people
✔Make a bullseye in darts - 07/10/12 (Johnny Gonzales)
Make a collage out of the objects in my memory box - 02/16/13 (Lyndsay Licata)
Make exercise a regular habit - (3) people
✔Make Homemade Rocky Road - 11/12/17 (Lance Garbutt)
✔027. Make a giant puzzle (+1000 pieces) - 06/29/11 (Jirrine Breedijk)
Make a time capsule, bury it, and dig it out one year later - (2) people
Make a Wish in the Trevi Fountain in Rome - 11/07/10 (Annaleisa Delacour)