Susan F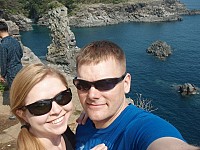 About Susan:
I love to find adventure everywhere. I don't just keep a bucket list, I am always crossing things off. I'm not very picky about my bucket list, if I h ...read more
Mission Statement:
To get as much out of life as I can, try anything at least once, go everywhere I can and don't let a moment slip by. Never say "I wish I would have".
Bucket List Item Information
Do something stereotypical of a French person while in France
"We ate at (several) cafes in France and sat sitting there watching people walk by (as opposed to looking at each other). It was great!"

Add This To Your Bucket List
Viewing details are set to Friends Only
Who Witnessed This Event/Item
Who Else Has This On Their Bucket List
Similiar Bucket List Ideas
Give each and every person I love a handmade gift - (2) people
Pay for the person behind me at a toll booth - 10/16/10 (Amy Kruse)
196. See Mount Rushmore in person - 03/14/11 (Emma McD)
Drink in the French quartet in New Orleans - 01/06/12 (Jennifer Rodriguez)
Play A French Horn - 10/24/13 (Lance Garbutt)
Make French Onion Soup - 06/04/14 (Elizabeth Newby)
✔France - 07/08/14 (Marsha Roberts)
La Champenoise (France) - 07/30/14 (Lance Garbutt)
Drink champagne in Champagne, France - 06/03/12 (Rebecca Orbegoso)
Wear a two person halloween costume - (3) people