Michelle Hudson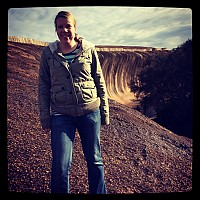 About Michelle:
I love hanging out and going to the beach and surfing even though I'm pretty bad at it. I have had a bucket list since 2005. I'm slowly crossing thing ...read more
Mission Statement:
One day your life will flash before your eyes. Make sure it's worth watching.
Bucket List Item Information
Enter and get placed in a striking competition

Completed on 06/07/2014
"I really enjoyed doing it on the day and wanted to enter so badly. but all I have herd since is negativity about my ringing and about how shit we were, I don't think I will enter another one. We came 5th out of 7 bands which is pretty cool. I'm glad we didn't come last."

Add This To Your Bucket List
Who Witnessed This Event/Item
Who Else Has This On Their Bucket List
Similiar Bucket List Ideas
Enter a sharp shooter comp. - doesn't matter how I finish - 01/10/13 (Tom Metcalf)
✔Karma Sutra Postion - Striking With The Fingers Contracted - 01/25/16 (Lance Garbutt)
Win a competition - 10/28/12 (Ebony Wilkinson)
Go to a DCI (Drum Corp International) World Championship Finals competition - 11/16/10 (Melissa McKay)
Enter a food challenge - (2) people
Enter the Lunatic Asylum, Ghost Tour - Ararat - 03/27/13 (Lance Garbutt)
34 To win a pointless competition - 12/13/10 (Tyler Carver)
Enter into a loving life-long relationship - 01/02/11 (Nina Simone)
Compete in a video game competition - 04/04/11 (Kristopher Barsanti)
Enter the Russian Sex Doll Raft Race - (2) people