Michelle Hudson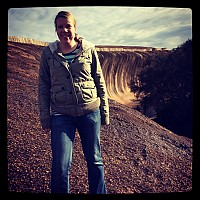 About Michelle:
I love hanging out and going to the beach and surfing even though I'm pretty bad at it. I have had a bucket list since 2005. I'm slowly crossing thing ...read more
Mission Statement:
One day your life will flash before your eyes. Make sure it's worth watching.
Bucket List Item Information
Tie a disposable camera to a fence and leave a note telling people to take pictures
"Found this on Pinterest and just had to add it. Hopefully it doesn't get stolen and I get some funny pictures. "

Completed on 04/27/2014
"I have put the sign up now I'm going to leave it a few day and go back and see if it's still there and if anyone has added any new photos."

Add This To Your Bucket List
Who Witnessed This Event/Item
Who Else Has This On Their Bucket List
Similiar Bucket List Ideas
Glue Money to the Floor and Watch People Try to Pick it up - 02/08/14 (Steve Morris)
Own a nice camera - (2) people
Fit 15 people into a VW Beetle - 07/15/10 (Jeremiah Stahn)
Leave Graffiti Somewhere - 04/06/14 (Steve Morris)
Spend a day at a retirement center and listen to people's stories - 04/17/10 (biker_idaho Justme)
Leave 3,000 dollars with my family when i die, tell them it is strictly for a awesome party - 09/01/12 (Caroline Olmstead)
Leave inspirational quotes around town :) - 03/17/15 (Deana Littlebear)
Tie a note to a balloon and let it go - (94) people
Go on a Palawan adventure with the people I love - 05/29/10 (Nina Castillo)
Do A Motivation Seminar To A Stadium Of People - 02/08/14 (Lance Garbutt)