Michelle Hudson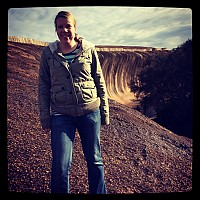 About Michelle:
I love hanging out and going to the beach and surfing even though I'm pretty bad at it. I have had a bucket list since 2005. I'm slowly crossing thing ...read more
Mission Statement:
One day your life will flash before your eyes. Make sure it's worth watching.
Bucket List Item Information
Write a travel journal about everything on my Bucket List
"Dedicating at least a page to each item and adding photos."

Completed on 03/30/2014
"Started my journal by putting in all the completed items off my bucket list."

Add This To Your Bucket List
Who Witnessed This Event/Item
Who Else Has This On Their Bucket List
Similiar Bucket List Ideas
Write my life story - 11/01/11 (Lisa Jones)
✔Travel Somewhere Solo - 06/25/14 (Lance Garbutt)
Collect a pair of shoes from everywhere I travel - 05/09/11 (Gracie Bell)
Throw a dart on a map and travel there - (86) people
Write someone else's life story - 04/27/11 (Johanna O)
Travel cross country via public transportation - (2) people
Write a comic book - 12/25/10 (Brandon Bollom)
Watch all Oscar award winning movies: Schindler's List - 03/30/14 (Steve Morris)
Travel in a camper van from Toronto to Vancouver - 10/19/12 (Katie Ellison)
Travel Europe - (7) people