Michelle Hudson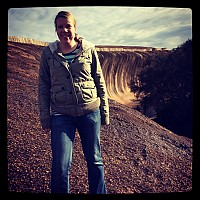 About Michelle:
I love hanging out and going to the beach and surfing even though I'm pretty bad at it. I have had a bucket list since 2005. I'm slowly crossing thing ...read more
Mission Statement:
One day your life will flash before your eyes. Make sure it's worth watching.
Bucket List Item Information
Buy a pair of boots and write Andy on the bottom of one
"I love Toy Story."

Completed on 04/10/2014
"I found these really cute gray boots and they were on sale for $10. I had to buy a size to big but I just had to get them. I can wear socks with them if I need to. When I got home I wrote Andy on the bottom of one."

Add This To Your Bucket List
Photos
Andy boot
added on 04/10/14 08:49 am
The Boots
added on 04/10/14 08:48 am
Who Witnessed This Event/Item
Who Else Has This On Their Bucket List
Similiar Bucket List Ideas
Write and illustrate a kiddies book - 10/27/10 (Aadiilah Sophiia)
Learn to Read/Write - Mandarin Chinese, Spanish, French and Japanese - 07/19/10 (Scott Johnson)
Write a cookbook and get it published - 07/19/10 (Scott Johnson)
write a full short story - 06/12/12 (Amelia Johnson)
Write a song for my parents - 09/19/11 (Yoshi Gillaspie)
✔Fix my bottom teeth - 06/14/11 (Ashley D.)
Own Born boots - 01/13/11 (Misty Hawes-Owen)
Get the right pair of boots from a famous Texas shop - 09/02/12 (Johnny Gonzales)
✔Write a text adventure game - 09/14/14 (Zsófi Homoki)
Write a joke or skit and send it to Family Guy - 03/14/11 (Trina Reed)