Michelle Hudson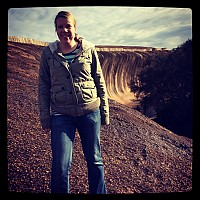 About Michelle:
I love hanging out and going to the beach and surfing even though I'm pretty bad at it. I have had a bucket list since 2005. I'm slowly crossing thing ...read more
Mission Statement:
One day your life will flash before your eyes. Make sure it's worth watching.
Bucket List Item Information
PLAY HOOKY AND DO SOMETHING FUN
"Every time I play hooky I don't leave my house as I'm too scared of getting caught."

Completed on 03/21/2014
"Decided that I wanted to go see the sculptures by the sea expedition at Cottesloe with Dalton as it was one of the last days it was on. Had lots of fun :-D"

Add This To Your Bucket List
Who Witnessed This Event/Item
Who Else Has This On Their Bucket List
Similiar Bucket List Ideas
Play my guitar around a bonfire at the beach - 03/31/13 (Jodi Gillians)
Play golf at Bethpage in New York - 04/18/10 (Kham Inthammavong)
Play Dungeon - 09/20/14 (Lance Garbutt)
Watch the Dallas Mavs play live - 08/04/12 (Johnny Gonzales)
play piano and sing in public - 06/16/10 (E A)
✔Play With Sparklers - 09/14/13 (Lance Garbutt)
Make a religious movie where I play Jesus - 12/13/10 (Katie Hennessy)
✔Play Scattergories - 09/21/14 (Lance Garbutt)
✔Play a round of crazy golf - 08/10/10 (Nicholas Todd)
Learn how to: Play Poker - 02/22/14 (Steve Morris)