Michelle Hudson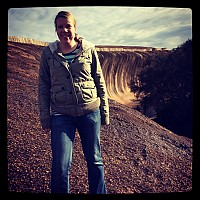 About Michelle:
I love hanging out and going to the beach and surfing even though I'm pretty bad at it. I have had a bucket list since 2005. I'm slowly crossing thing ...read more
Mission Statement:
One day your life will flash before your eyes. Make sure it's worth watching.
Bucket List Item Information
Find Freedom on the Big Lap Around Australia
"I just want to jump in my car and drive. I have to get another car before I can do this. "

Add This To Your Bucket List
Who Witnessed This Event/Item
Who Else Has This On Their Bucket List
Similiar Bucket List Ideas
Find and soak in every hotsprings in BC - 01/19/11 (Misty Hawes-Owen)
Find A Dinosaur Bone - 02/01/14 (Lance Garbutt)
Visit South Australia - 04/02/13 (Lance Garbutt)
Create my own Freedom - 11/28/10 (joe meckley)
Surf in Australia - (4) people
Stand at the Northernmost Tip of Australia - 08/23/13 (Lance Garbutt)
✔Find my long time buddy Jamie that I haven't seen since 4th grade - 05/13/10 (Kham Inthammavong)
Write a letter to self, stamp, address to self, hide in library, go find it in 5 years - (2) people
Travel Australia and New Zeland - 06/20/13 (Tonco Smolar)
Go to Whitehaven Beach, Australia - 07/20/15 (Corinne ~)