Michelle Hudson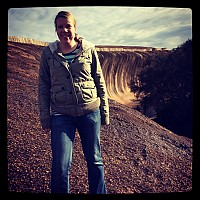 About Michelle:
I love hanging out and going to the beach and surfing even though I'm pretty bad at it. I have had a bucket list since 2005. I'm slowly crossing thing ...read more
Mission Statement:
One day your life will flash before your eyes. Make sure it's worth watching.
Bucket List Item Information
Run the King Island Marathon
"I lived on King Island for a few years when I was little and would love to go back and check the place out. Also you run around the whole island which is really cool."

Add This To Your Bucket List
Who Witnessed This Event/Item
Who Else Has This On Their Bucket List
Similiar Bucket List Ideas
Compete in 50 Marathon's In My Lifetime - 05/04/14 (Lance Garbutt)
Have a movie marathon with friends - 01/24/13 (Amber Donaldson)
complete a half marathon - (6) people
11) watch a full marathon - 01/03/11 (chazzlynn and haley)
Tasmania Cadbury Marathon - Cadbury Chocolate Factory, Cadbury Estate in Claremont, 42.2km, January - 01/11/14 (Lance Garbutt)
✔See penguins in their natural habitat Phillip Island - 04/01/13 (Lance Garbutt)
Jungle King - 10/28/14 (Lance Garbutt)
✔Watch Disney Lion King Live - 05/07/13 (Lance Garbutt)
Sutherland Half Marathon - 08/11/14 (Lance Garbutt)
Morris Island, Charleston, SC - 05/27/13 (Lance Garbutt)