Michelle Hudson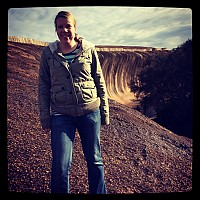 About Michelle:
I love hanging out and going to the beach and surfing even though I'm pretty bad at it. I have had a bucket list since 2005. I'm slowly crossing thing ...read more
Mission Statement:
One day your life will flash before your eyes. Make sure it's worth watching.
Bucket List Item Information
Do something that asolutely terrifies you
"I have already concurred one of my fears but I have a couple others I should really work on."

Completed on 05/10/2014
"So I'm terrified of bridges. I don't like the ones that sway or wooden ones. I also hate when your walking along the path and you can see the big drop below your feet. I also don't like walking along beams or planks if they are high up. Today I went to help clean the bells at the bell tower. When we went up to the bells I realised to my horror that we had to stand on metal beams one story higher than the floor. Some of these beams weren't wide enough for my foot. I volunteered to do it so I made myself but I had the nervous shakes the whole time which really didn't help my balance. With belle ringing they like you to do everything once. I have done it now and never plan to do it again."

Add This To Your Bucket List
Who Witnessed This Event/Item
Who Else Has This On Their Bucket List