Ashley Holden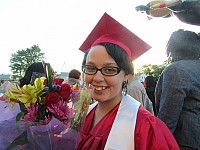 About Ashley:
Hi! I'm Ashley, 20 y.o. Married to my amazing infantryman and expecting our daughter summer 2015.
Mission Statement:
YOLO! You only live once: do what you want, what you love, and what you have the ability to do. Take advantage of the capabilities that you have. Don' ...read more
Bucket List Item Information
Do something on someone else's bucketlist with them that isn't on my own

Completed on 05/31/2013
"Finished this by going to Prom with Lyndsay!!! <3"

Add This To Your Bucket List
Viewing details are set to Members Only
Who Witnessed This Event/Item
Who Else Has This On Their Bucket List
Similiar Bucket List Ideas
Pay for someone elses drive thru - 03/08/11 (B Thrill)
✔spend christmas with someone elses family - 10/18/11 (Gemma Campbell)
do everything in my bucketlist - 01/23/11 (Melody M)
Make a Movie bucketlist :3 - 03/06/11 (Zimzala )
Film My Bucketlist Journey - 08/23/16 (Lance Garbutt)
Create an awesome bucketlist - 11/14/12 (Diana G)
Do something on someone else's bucketlist with them that isn't on my own - (3) people
Help someone check off a Bucketlist item - (2) people
✔Attend A Travis Bell Bucketlist Seminar - 01/28/14 (Lance Garbutt)
✔Attend A Sebastian Terry Bucketlist Seminar - 01/28/14 (Lance Garbutt)