Michelle Hudson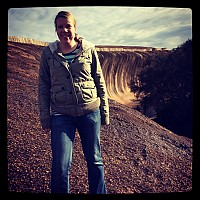 About Michelle:
I love hanging out and going to the beach and surfing even though I'm pretty bad at it. I have had a bucket list since 2005. I'm slowly crossing thing ...read more
Mission Statement:
One day your life will flash before your eyes. Make sure it's worth watching.
Bucket List Item Information
Entre in the World Tin Bath Championships
"Each year the World Tin Bath Championship takes place in the Middle Harbour, Castletown. I think this would be awesome fun to compete in."

Add This To Your Bucket List
Who Witnessed This Event/Item
Who Else Has This On Their Bucket List
Similiar Bucket List Ideas
Get in the Guinness Book of World Records - (3) people
Break a solo Guinness World record - (2) people
Navigating The World's Highest Climbing Wall (Nicknamed The "French Fry") - 12/18/13 (Lance Garbutt)
See the world's largest Chocolate fountain (Bellagio, Las Vegas, Nevada) - (3) people
Take a month long vacation on the opposite side of the world, in a city with a completely different culture - 07/28/11 (Alvina Aris)
Eat food from around the world: German Chocolate in Germany - 01/31/14 (Steve Morris)
Contribute to making the world a better place - 06/04/10 (Nichole Reeves)
Eat food from around the world: Mississippi Mud Pie in Mississippi - 01/31/14 (Steve Morris)
079. Visit the seven New World Wonders - 06/29/11 (Jirrine Breedijk)
✔Visit a Roman Bath - 07/08/14 (Marsha Roberts)