Ashley Holden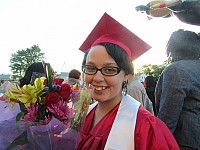 About Ashley:
Hi! I'm Ashley, 20 y.o. Married to my amazing infantryman and expecting our daughter summer 2015.
Mission Statement:
YOLO! You only live once: do what you want, what you love, and what you have the ability to do. Take advantage of the capabilities that you have. Don' ...read more
Bucket List Item Information
Go to a Superbowl on my birthday
"The next time this happens isn't until 2017 - hopefully I can do it then!"

Add This To Your Bucket List
Viewing details are set to Members Only
Who Witnessed This Event/Item
Who Else Has This On Their Bucket List
Similiar Bucket List Ideas
✔Make it to my next birthday - 06/16/10 (Molly LaRay)
✔Buy liquor on my 21st birthday - 06/14/12 (fcking -a)
Take a picture on my birthday every year - 06/03/12 (Rebecca Orbegoso)
✔Celebrate my Birthday in Another Country - 12/22/13 (Lance Garbutt)
Watch the Superbowl live - 07/10/12 (Chowder Col)
✔Go to Club 33 on Walt Disney's Birthday - 10/22/13 (Jodi Gillians)
1. play 21 in Vegas on my 21st birthday and buy 21 things with the money I win - 10/10/10 (Mazzi wheatley)
✔Surprise my mom with something big for her 70th birthday - 02/13/14 (Susan F)
Bake a novelty birthday cake - (2) people
•Cry on my birthday - 11/07/12 (Yana Lk)