Michelle Hudson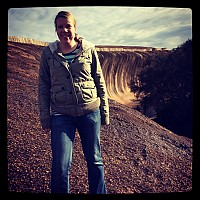 About Michelle:
I love hanging out and going to the beach and surfing even though I'm pretty bad at it. I have had a bucket list since 2005. I'm slowly crossing thing ...read more
Mission Statement:
One day your life will flash before your eyes. Make sure it's worth watching.
Bucket List Item Information
Give a street performer 100 dollars
"I thought I had this on my list but it wasn't there when I looked today.Also not a creepy statue person."

Completed on 08/21/2012
"This guy is pretty good. He plays songs I know but he doesn't make much money as he smells like pee and isn't as well dressed as the others that perform in the mall. I decided ages ago that he was the only one I was going to give $100 note too, I have just been waiting until I could afford to do it."

Add This To Your Bucket List
Who Witnessed This Event/Item
Who Else Has This On Their Bucket List
Similiar Bucket List Ideas
give my children cool middle names - 08/24/11 (Megan T)
62. give blood regularly - (2) people
Give Every Person I Love a Handmade Gift - 04/04/14 (Steve Morris)
give a memory tour of my home town - 08/24/11 (Megan T)
Give a public speech - (4) people
29. Help an elderly person cross the street - (2) people
Call a "How am I Driving" number and give a rave review - 07/28/13 (Susan F)
Give a speech in a public place or large event - 03/01/11 (Ashleigh Potential Maturity)
✔Super Street Fighter II: The New Challengers - 10/10/14 (Lance Garbutt)
Give a bouquet of snap dragon flowers to my fiancee - 12/27/15 (Jaimee-Leigh Wignell)