Michelle Hudson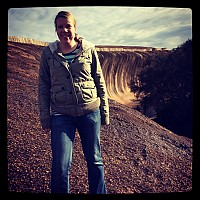 About Michelle:
I love hanging out and going to the beach and surfing even though I'm pretty bad at it. I have had a bucket list since 2005. I'm slowly crossing thing ...read more
Mission Statement:
One day your life will flash before your eyes. Make sure it's worth watching.
Bucket List Item Information
Own a pair of awesome platform shoes
"I have never had any and they look so cool. On my younger list."

Completed on 11/20/2012
"Got this pair on Tuesday and I think there awsome. I should never taken the shops cataloge as now there is two more pairs of platform shoes I want."

Add This To Your Bucket List
Who Witnessed This Event/Item
Who Else Has This On Their Bucket List
Similiar Bucket List Ideas
Build an Awesome House for My Pet Tortoise - 07/27/11 (Alex R)
Walk a mile in her shoes for charity - 04/10/14 (David Asselin)
Own a pair of Dr Martens - 04/08/13 (Victoria Clarke)
Be awesome and 'tahan lasak' - 10/10/11 (Nabilah Johari)
Own a fabulous pair of designer shoes - 11/15/10 (Rina Iakopo)
Program something awesome - 10/10/11 (Hollie Belle)
Wardrobe that includes little black dress, great pair of heels, great jeans, and cute hat - 09/17/10 (Tricia Bushnell)
Own a Pair of Whitby Jet Cuff links - 02/21/14 (Steve Morris)
✔Own an awesome movie collection - 08/02/14 (Esther Joy)
✔Design My Own Shoes - 10/03/16 (Lance Garbutt)