Michelle Hudson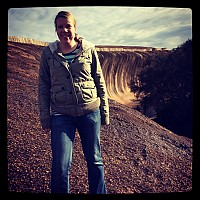 About Michelle:
I love hanging out and going to the beach and surfing even though I'm pretty bad at it. I have had a bucket list since 2005. I'm slowly crossing thing ...read more
Mission Statement:
One day your life will flash before your eyes. Make sure it's worth watching.
Bucket List Item Information
Drive in the Snow

Completed on 08/06/2012
"I went to Hobart today at 0500. When I got half way there I hit Oatlands, where it had been snowing all night and the road was covered in thick ice and snow. As I drove through it I was suprised to find it was still snowing. I didn't have chains on my tires so it was pretty scary but really cool at the same time. I managed to follow some big trucks which broke up the ice for me. I'm impressed that I made it through a few years ago I would have pulled over to the side of the road and given up. Thats why I had to put it on here as one of my accomplishment for this year."

Add This To Your Bucket List
Who Witnessed This Event/Item
Who Else Has This On Their Bucket List
Similiar Bucket List Ideas
drive cross country in an RV - (2) people
Fly to Sydney, Australia rent a car, drive to Brisbane while checking out the coastline activities - 05/26/12 (Michelle Anne)
Drive across Canada - 10/22/10 (Crystal Allen)
Drive a Fomula one racing car - 03/30/13 (Lance Garbutt)
walk bare foot in the snow - (2) people
Drive a fast car on the Autobahn - (2) people
Learn how to drive a tractor - (2) people
Drive a Jaguar XF - 06/19/14 (David Teasdell)
✔Make A Snow Globe - 12/27/15 (Lance Garbutt)
Drive a Dacia Sandero - 06/19/14 (David Teasdell)