Ana Bugalho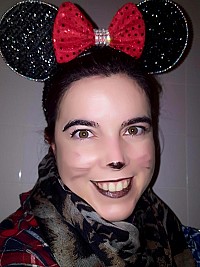 About Ana:
I'm just a few months away from my 30th b-day and it seemed the right time to consider what I really want to do, see or have in my live. Wish me luck!
Mission Statement:
Dreaming is making plans Living is having the courage to achieve them!!
Bucket List Item Information
Go to Disney World

Completed on 02/26/2018
"Disney World Paris... truly the happiest place on earth!"

Add This To Your Bucket List
Photos
added on 09/14/18 12:31 pm
added on 09/14/18 12:30 pm
added on 09/14/18 12:26 pm
Who Witnessed This Event/Item
Who Else Has This On Their Bucket List
Similiar Bucket List Ideas
See the 7 wonders of the world - 09/24/11 (Tina Henderson)
Eat food from around the world: Denver Omelette in Denver - 01/31/14 (Steve Morris)
Eat food from around the world: Rocky Mountain Oysters in the Rockies - 01/31/14 (Steve Morris)
Go on the disney cruise - 09/15/16 (Katrina Marchant)
The World's Biggest Sundial - 09/23/14 (Lance Garbutt)
ride 10 largest roller coasters in the world - 07/27/12 (samantha newcomb)
Apply to the World Traveler Internship - 01/08/12 (Caity Greig)
✔go on a mission trip in a third world country - 08/09/11 (Anna Plant)
Eat food from around the world: Fugu in Japan - 01/31/14 (Steve Morris)
Eat food from around the world: New York Steak in New York - 01/31/14 (Steve Morris)