Kaylee Meek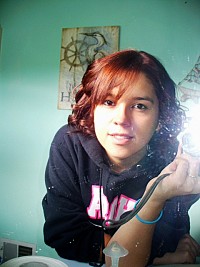 About Kaylee:
I plan to do everything on my Bucket List before I kick the bucket...
Mission Statement:
Never let someone or something get in the way of what you want; it's yours for the taking so take it and enjoy it.
Bucket List Item Information
Stand Under a Waterfall
"I've never seen a real waterfall, not even Niagra Falls. It should be like the waterfall from the Hannah Montana movie with the little area to swim in underneath... I'm getting ahead of myself (;"

Add This To Your Bucket List
Who Witnessed This Event/Item
Who Else Has This On Their Bucket List
Similiar Bucket List Ideas
The Emerald Pool and Waterfall - (Baja California, Mexico) - 04/02/13 (Lance Garbutt)
✔Stand in two states at the same time - 12/14/17 (Pete R)
Shower in a waterfall - (24) people
Go to a Stand Up Show - 08/10/10 (Nicholas Todd)
Baatara Gorge Waterfall (Tannourine, Lebanon) - 07/28/16 (Susan F)
Waterfall Beach (Western Australia, Australia) - 10/13/14 (Susan F)
Stand on the north or south pole - 04/03/11 (Kristina Manning)
Stand under a street sign that reads your name - 06/01/10 (Kirsty Burgess)
Waterfall Walkway, St. Beatus Caves, Switzerland - 10/23/13 (Lance Garbutt)
Stand in the Pacific Ocean - 03/17/15 (Deana Littlebear)