Michelle Hudson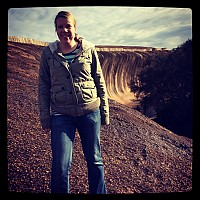 About Michelle:
I love hanging out and going to the beach and surfing even though I'm pretty bad at it. I have had a bucket list since 2005. I'm slowly crossing thing ...read more
Mission Statement:
One day your life will flash before your eyes. Make sure it's worth watching.
Bucket List Item Information
Donate Blood
"I will have to get over my slight fear of needles to do this."

Completed on 01/25/2011
"This only took an hour and was pretty much pain less. I think I may do it more regular now after all it's for a good cause."

Add This To Your Bucket List
Who Witnessed This Event/Item
Who Else Has This On Their Bucket List
Similiar Bucket List Ideas
•Donate money to a charity - 04/24/12 (Yana Lk)
Donate $10,000 to SUNY Potsdam - 11/15/10 (Lindsay M.)
✔donate eye glasses - 04/20/11 (Ria T)
Donate ponytail to Pantene Beautiful Lengths program - 06/21/11 (Donmarie Barradas)
✔Become a regular blood donor - 07/21/12 (Ana Bugalho)
Play Blood Bowl - 09/19/14 (Lance Garbutt)
Donate over $50,000 to charity - (3) people
Donate $10,000 to Bucknell Womens' Crew - 04/02/11 (Candice Olszewski)
Read All 7 Harry Potter Books: 6 - Half-Blood Prince - 02/14/14 (Steve Morris)
Donate clothes - 03/25/11 (casey barakat)