Michelle Hudson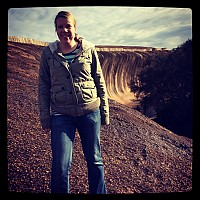 About Michelle:
I love hanging out and going to the beach and surfing even though I'm pretty bad at it. I have had a bucket list since 2005. I'm slowly crossing thing ...read more
Mission Statement:
One day your life will flash before your eyes. Make sure it's worth watching.
Bucket List Item Information
Cook a barbie on the beach
"With family and friends."

Completed on 09/30/2014
"Went on a tour to the pinnacles and we stopped at a beach nearby for lunch before going sand boarding. We had a BBQ right on the beach. It was really good but windy. The funniest part was that they had bush toilets there which all the tourists freaked out about lol."

Add This To Your Bucket List
Who Witnessed This Event/Item
Who Else Has This On Their Bucket List
Similiar Bucket List Ideas
Play volleyball on the beach with hot boys - 12/30/10 (elizabeth w)
Ipanema Beach - 04/03/13 (Lance Garbutt)
Go to Agate beach (Agate, Oregon) - 11/04/13 (Susan F)
✔Go to Maya Beach where 'The Beach' was filmed - 06/30/16 (Corinne ~)
✔See Auckland's - Piha Beach , Black Sand - 08/03/15 (Lance Garbutt)
Own a camp/summer home/beach house/time share - 11/15/10 (Lindsay M.)
Have sex on a beach - 11/07/10 (Steven Barrlott)
Learn how to cook - (5) people
learn to cook - (11) people
Cathedrals beach (Galicia, Spain) - 02/20/15 (Susan F)