Michelle Hudson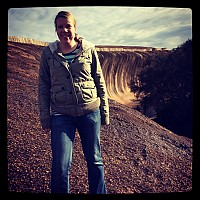 About Michelle:
I love hanging out and going to the beach and surfing even though I'm pretty bad at it. I have had a bucket list since 2005. I'm slowly crossing thing ...read more
Mission Statement:
One day your life will flash before your eyes. Make sure it's worth watching.
Bucket List Item Information
Learn to surf
"And not get eaten by a shark."

Completed on 11/14/2010
"I caught a couple of waves, managed to stand up and then knocked out one of my front teeth."

Add This To Your Bucket List
Who Witnessed This Event/Item
Who Else Has This On Their Bucket List
Similiar Bucket List Ideas
learn how to draw - 06/17/10 (Fiona Ryan)
Learn To Play Drums - (8) people
Learn to write with my left hand - (2) people
Learn oil painting - 09/04/10 (Irene Irene)
Learn Three Bicycle Tricks - 04/03/14 (Steve Morris)
Learn more Korean - 12/17/14 (Carrie G)
Learn how to: Make Monkey Bread - 02/22/14 (Steve Morris)
Learn Accupuncture - 05/23/11 (shelton clark jr)
Learn to make californian rolls - (2) people
Learn how to: Zen Garden - 02/26/14 (Steve Morris)