Susan F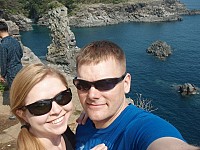 About Susan:
I love to find adventure everywhere. I don't just keep a bucket list, I am always crossing things off. I'm not very picky about my bucket list, if I h ...read more
Mission Statement:
To get as much out of life as I can, try anything at least once, go everywhere I can and don't let a moment slip by. Never say "I wish I would have".
Bucket List Item Information
Go to an NBA game (to do)

Completed on 08/01/2014
"We saw the Team USA game between the white and blue team made up of several high profile NBA players. The game was for fun. We saw it in Las Vegas during my 30th birthday trip. "

Add This To Your Bucket List
Viewing details are set to Friends Only
Who Witnessed This Event/Item
Who Else Has This On Their Bucket List
Similiar Bucket List Ideas
Sit courtside for an NBA game - (2) people
Be on a panel/game show - 09/22/10 (N T)
go to a Yankee's game - 06/29/10 (222222 555555555)
Live Football Game - 03/30/13 (Lance Garbutt)
Watch A AFL Game - Geelong Cats - 09/06/14 (Lance Garbutt)
✔Go to a college hockey game - 10/05/17 (Megan Nicole)
Go to USWNT game - 03/15/12 (Kaleigh Brooke)
Play an airsoft game - 11/28/11 (Tiens van Zyl)
Watch A AFL Game - Melbourne - 09/06/14 (Lance Garbutt)
See a baseball game at the Pirates stadium - 01/20/17 (Megan Nicole)