Michelle Hudson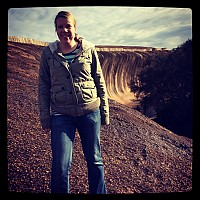 About Michelle:
I love hanging out and going to the beach and surfing even though I'm pretty bad at it. I have had a bucket list since 2005. I'm slowly crossing thing ...read more
Mission Statement:
One day your life will flash before your eyes. Make sure it's worth watching.
Bucket List Item Information
Get given a rose
"Every women should get given a rose."

Completed on 03/20/2018
"I got surprised with a red rose at work. A little old man who I have been taking care of for a few months brought me a rose from his garden. It smelt really nice and was a pleasant surprise."

Add This To Your Bucket List
Who Witnessed This Event/Item
Who Else Has This On Their Bucket List
Similiar Bucket List Ideas
Visit the Mary Rose - 03/16/14 (Steve Morris)
✔Get A Engraved Teddy For My Daughty Indie - Rose - 12/16/17 (Lance Garbutt)
The Rose Cottage c 1876 - 04/01/13 (Lance Garbutt)
Visit a rose garden - (2) people
Pasadena Rose Parade (Pasadena, California) - 01/25/16 (Susan F)
✔Rose Seildler House - 03/26/13 (Lance Garbutt)
See the Rose Parade in Pasadena - (3) people
Visit the Rose Parade in Pasadena - 03/19/14 (Steve Morris)
Take a candle lit bath with rose petals,& champagne with someone (to do) - 08/19/11 (Susan F)
Buy a £100 Longevity rose - 08/17/12 (S Anonymous)