Michelle Hudson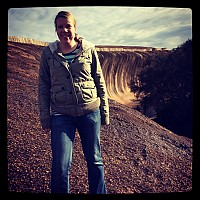 About Michelle:
I love hanging out and going to the beach and surfing even though I'm pretty bad at it. I have had a bucket list since 2005. I'm slowly crossing thing ...read more
Mission Statement:
One day your life will flash before your eyes. Make sure it's worth watching.
Bucket List Item Information
Learn how to walk in heels without looking like an idiot
"I'm just so uncoordinated that I never look good in heels. I want to fix this"

Completed on 11/27/2012
"My cousin got married on the 27th and I had to spend 10 hours in heels. I didn't roll my ankle and I didn't have to take them off. which I think means I have officially learnt to walk in heels, it's only taken me 28 years to master this ability."

Add This To Your Bucket List
Who Witnessed This Event/Item
Who Else Has This On Their Bucket List
Similiar Bucket List Ideas
Live a year in Italy and learn properly Italian - 07/17/10 (JO Dudi)
Learn to say hello in 50 different languages - (4) people
Learn how to change oil in a car - (2) people
Walk in the 3-day for the cure - 03/29/11 (Autie Barnes)
learn how to salsa dance - 09/30/11 (Courtney Newell)
3. Learn to take criticism - 03/13/11 (Emma McD)
Walk the Appalachian Trail - 10/06/11 (Katie Mitchell)
Learn advanced Japanese - 07/18/13 (Michael Jones)
Learn to play bagpipes - 11/22/13 (Steven Dowdell)
Learn to pay it forward  - 05/02/11 (Angelo Rivera)