Jason Eustice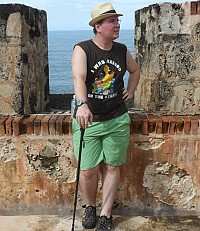 About Jason:
Artist and Traveler
Mission Statement:
Living Life to its fullest!
Bucket List Item Information
Go on a cruise

Completed on 09/05/2010
"My first cruise was on Carnival Legend and I love cruising ever since. I am addicted. On my first cruise I was so drunk I had a crew member follow me around with a mop and bucket. GOOD TIMES! Its great!"

Add This To Your Bucket List
Who Witnessed This Event/Item
Who Else Has This On Their Bucket List
Similiar Bucket List Ideas
Go on a Cruise via Star Cruises - 12/07/11 (Aissa Aragon)
Go on a cruise - tour the world - 01/07/13 (rijata sing)
Go on the Disney cruise with My child - 05/23/11 (kim Clark)
Take a cruise with my family on the Nile River - 01/18/11 (areli villegas)
Go on a Nile River Cruise - (4) people
take a cruise to greek islands - 06/10/12 (James Brennan)
Go on an Abraham-Hicks Law of Attraction Cruise either in Alaska or New Zealand - 11/22/10 (Raw Me)
go on a cruise with my children - 10/23/10 (Bekki Richens)
Cruise the Göta Canal in Sweden - 08/01/11 (Sharon Widell)
Go on an Oasis of the Seas cruise - 09/04/10 (Irene Irene)