Michelle Hudson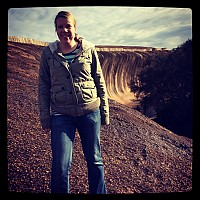 About Michelle:
I love hanging out and going to the beach and surfing even though I'm pretty bad at it. I have had a bucket list since 2005. I'm slowly crossing thing ...read more
Mission Statement:
One day your life will flash before your eyes. Make sure it's worth watching.
Bucket List Item Information
Make a "FREE HUGS" shirt and wear it all day
"Just to see if I get any hugs."

Completed on 06/29/2014
"I'm glad I did this it felt good walking around with it on, even if I didn't get any hugs"

Add This To Your Bucket List
Who Witnessed This Event/Item
Who Else Has This On Their Bucket List
Similiar Bucket List Ideas
✔Make money lei - 05/05/13 (j nadonza)
Cement project 3 - make picture frame - 09/19/16 (Jaimee-Leigh Wignell)
✔make a (private) sextape - 05/10/14 (fcking -a)
Make a Potato Cannon - 02/20/14 (Steve Morris)
Make more of an effort to keep in contact with friends - 09/28/10 (Cassandra Jones)
Make a wish in the Trevi fountain - 07/08/14 (Marsha Roberts)
✔Make Homemade pizza dough base - 11/04/17 (Lance Garbutt)
Make A Hole In One Golf - 11/16/13 (Lance Garbutt)
meet Deadmau5 and make a song with him - 10/16/11 (nikki walker)
Design and make my own t-shirt - (4) people