Michelle Hudson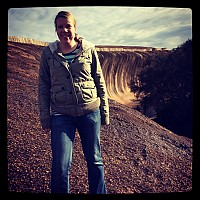 About Michelle:
I love hanging out and going to the beach and surfing even though I'm pretty bad at it. I have had a bucket list since 2005. I'm slowly crossing thing ...read more
Mission Statement:
One day your life will flash before your eyes. Make sure it's worth watching.
Bucket List Item Information
Watch every RayWilliamJohnson episode
"This guy is fucking hilarious and he featured my brother in one episode."

Completed on 08/25/2012
"I have now watched all the old a new episodes he has released that are still on YouTube."

Add This To Your Bucket List
Who Witnessed This Event/Item
Who Else Has This On Their Bucket List
Similiar Bucket List Ideas
Watch my children grow up - 06/27/12 (Jessica Gregor)
✔Watch sunrise over the sea - 11/03/10 (Bethany Seddon)
Watch a Broadway Show on Broadway - 04/07/14 (Steve Morris)
✔Watch a live concert in the park - 08/02/14 (Esther Joy)
glue money to theground and watch people try and pick it up - 07/27/12 (samantha newcomb)
✔Set my watch by Big Ben - 07/08/14 (Marsha Roberts)
Watch the ball drop for New Years in Times Square - (3) people
Watch the whole Harry Potter series in a day - 01/24/13 (Amber Donaldson)
Hear my children accept Jesus Christ as their Savior and watch their father baptize them - 11/16/10 (Melissa McKay)
Watch a Sunset: Over Machu Picchu - 04/18/14 (Steve Morris)