j nadonza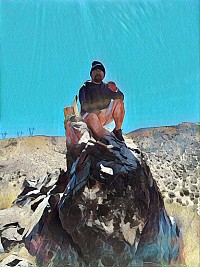 Mission Statement:
"The most important thing to remember is this: To be ready at any moment to give up what you are for what you might become." -W. E. B. Du Bois
Bucket List Item Information
Watch AFI 10 Top 10
"98/100--November 10, 2011 96/100--October 20, 2011 93/100 October 12, 2011 84/100--Epic, Sci Fi, and Romantic Comedies are done; Gangster, Sport, Fantasy, Mystery--Only 1 Left. Animation, Westerns, and Courtroom Dramas there is some watching to be done. October 8, 2011."

Completed on 01/05/2012
"For some reason, I don't know why I did not ask Jason if he had Fantasia. He let me borrow it. Duh? None of the family and friends that had kids had Fantasia. The one single cousin I have has it. Why didn't I ask him first? I am #17 on the queue from the library. I can cancel this request now. Anyways, Finally done."

Add This To Your Bucket List
Viewing details are set to Members Only
Who Witnessed This Event/Item
Who Else Has This On Their Bucket List
Similiar Bucket List Ideas
✔Watch Forest Gump - 11/03/10 (Bethany Seddon)
Watch the Superbowl - 04/07/14 (Steve Morris)
go to Marianske Lazne and watch the fountain change as the orchestra plays - 12/15/11 (Lisa Klingelhoefer)
Watch every Star Wars in a row - 07/08/11 (Kara Thomas)
Watch my son get married - (2) people
Watch all of the Harry Potter movies in one day - (4) people
✔Watch Silent Movie at Movie Theater - 01/16/11 (j nadonza)
✔Watch jet fighter fly over sydney harbour - 03/31/13 (Lance Garbutt)
✔Watch All Series Episodes Of Top Gear - 11/23/13 (Lance Garbutt)
Watch A NRL Game – Team Knights - 09/05/14 (Lance Garbutt)