Michelle Hudson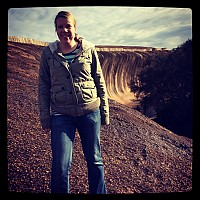 About Michelle:
I love hanging out and going to the beach and surfing even though I'm pretty bad at it. I have had a bucket list since 2005. I'm slowly crossing thing ...read more
Mission Statement:
One day your life will flash before your eyes. Make sure it's worth watching.
Bucket List Item Information
Create a recipe book of my favorite recipes
"I have started typing up all the recipes I love and can cook. I will turn them into a book when I have enough."

Completed on 04/03/2014
"I have started it buy putting in all my favorite recipes. I can also add any new ones I find because there is a lot of spare pages."

Add This To Your Bucket List
Who Witnessed This Event/Item
Who Else Has This On Their Bucket List
Similiar Bucket List Ideas
✔Publish photo book - 05/05/10 (Julie Michler)
get in a world record book - 09/30/11 (Courtney Newell)
Get Favorite flowers on Valentine's Day - 06/29/10 (AMALIKAAA NAJOFF)
✔Create a public facebook page - 01/28/11 (Gemma Provan)
Create and maintain a regular yoga practice - 07/15/10 (Amy W)
make a list of my 100 favorite songs - 09/07/11 (Megan T)
Fill my Concert Ticket Book - 06/14/11 (Ashley D.)
Create and keep up with a blog - 06/15/11 (Russell Doiron)
Write a comic book - 12/25/10 (Brandon Bollom)
Bike all the 'Beyond Hamsterley' book routes: Barningham - 04/18/14 (Steve Morris)