Michelle Hudson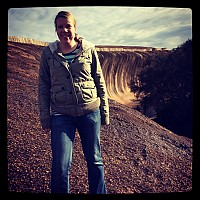 About Michelle:
I love hanging out and going to the beach and surfing even though I'm pretty bad at it. I have had a bucket list since 2005. I'm slowly crossing thing ...read more
Mission Statement:
One day your life will flash before your eyes. Make sure it's worth watching.
Bucket List Item Information
Learn a foreign language
"Maybe Spanish or French they both sound cool."

Completed on 10/01/2013
"I learnt to Key Word Sign which is sign launguage where you sign the important words in the sentance. This sort of sign language is used with children and adults with a disability to improve quality of life. While doing speech pathology at uni they offered to run a day where they tought us which was really nice."

Add This To Your Bucket List
Who Witnessed This Event/Item
I took one year of Spanish in high school. I also know Italian, too.
Who Else Has This On Their Bucket List
Similiar Bucket List Ideas
Learn Macro Photography - (2) people
Learn a street magic trick - (2) people
Learn to paint like Bob Ross - 05/20/12 (Annie H,)
Learn to play a bass guitar - 12/08/11 (Michael Jones)
338. Learn to blow a bubble gum bubble - 03/16/11 (Emma McD)
learn yoga from a guru in himalayas - 12/30/10 (Diana Augustine)
331. Learn to do a cartwheel - 03/16/11 (Emma McD)
Learn to solve a rubix cube - 06/09/11 (Cynthia T)
Learn an art from scratch - 04/27/11 (Johanna O)
Dance in a foreign country with Michael with a live band during a street party - 06/17/10 (Jamie Praslicka)