Susan F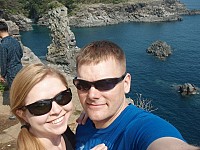 About Susan:
I love to find adventure everywhere. I don't just keep a bucket list, I am always crossing things off. I'm not very picky about my bucket list, if I h ...read more
Mission Statement:
To get as much out of life as I can, try anything at least once, go everywhere I can and don't let a moment slip by. Never say "I wish I would have".
Bucket List Item Information
Find the one person in this world I can not live without and who feels the same about me (to do)

Completed on 08/23/2011
"Carson and I fell in love with each other and even though he's leaving for a year, we want to be together for the rest of our lives."

Add This To Your Bucket List
Viewing details are set to Friends Only
Who Witnessed This Event/Item
Who Else Has This On Their Bucket List
Similiar Bucket List Ideas
Drink around the world at Epcot - (2) people
contribute for a better world - 05/29/10 (Christian Paul Medina)
✔See 112 Live - 11/19/16 (Lance Garbutt)
Find a new hobby - 06/29/12 (Jennifer Molenda)
Eat food from around the world: Greek Salad in Greece - 01/31/14 (Steve Morris)
Attend a world fair - 08/11/12 (Johnny Gonzales)
✔Find my perfect lipstick color - 03/02/12 (Sophie M.)
✔Find a four leaf clover (to do) - 08/07/11 (Susan F)
The Deepest Step Well in the World - 05/27/13 (Lance Garbutt)
Live in England - 04/27/11 (sam cabezas)